January 31st, 2011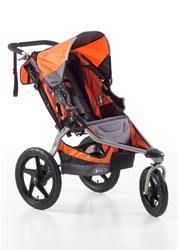 New Terminology
BOB is abandoning the "AW" or All-Wheel term. Instead, they are classifying their strollers into two categories; CE for City Experience and SE for Sport Experience. For those of you that are familiar with the brand, the AW strollers featuring 3 12″ wheels are now known as "CE
SE
Fabrics
New fabrics provide more technical benefits and bold new colors. The 2011 BOB Strollers are now available in Orange, Red, Navy, Yellow, Blue, Black, and Plum. If I had to try to describe the new fabrics, I'd say that they are more vibrant, lighter, and more resistant to the elements.
Integrated Accessory Adapter
This is perhaps the biggest change for the 2011 line. Brand new for all BOB strollers, the integrated accessory adapter allows for quick and easy installation of BOB infant car seat adapters and snack trays. Instead of having to bring your stroller into a bike shop and having to unscrew your adapter, this new system allows you to install and remove the adapters with the click of a button. Also, instead of a "one size fits all" adapter, BOB came out with separate adapters for each brand of car seat. BOB Single Strollers are now compatible with Graco, Peg Perego, and new for this year, Chicco Infant CarSeats. The BOB Duallie Strollers are compatible with the Graco Infant Car Seat adapter only.
The new and improved snack tray has room for a sippy cup, snacks, and more!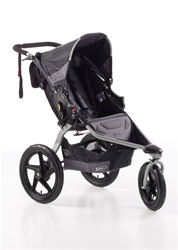 Improved Seat and Harness
With the new seat fabrics, BOB has also re-engineered the stroller seat itself. The ultra-supportive, redesigned seat now features heat press technology for additional padding and added back support. In layman's terms, the seat has pockets of padding throughout the seat, similar to a pair of well padded bike shorts! Ultra soft and incredibly comfortable. The 5-point seat harness now features more padding to help secure children much more comfortably.
Stroller Lock
The 2011 BOB Strollers all feature a new buckle that fastens the stroller while folded. So, now your stroller will stay folded and safely locked in place.
Suspension System
The award winning (well, I'm not sure if they actually won an award, but we love it!) suspension has been improved as well. We can't imagine a smoother ride, but BOB continues to improve their already flawless product. 
BOB has really pulled out all the stops with this stroller. They managed to take the best jogging stroller on the market and improve upon it without losing their signature BOB style. We have been huge fans of this brand for years. With these new improvements to their 2011 BOB Stroller line, we are even more enthusiastic about the brand.
For those parents looking for an exceptional jogging stroller, or even a great all around stroller, BOB will not disappoint.   
Tweet This Post
2011 BOB Stroller Review
bob stroller review
Posted in
Baby Products
BOB
Product Reviews
8 Comments »
December 14th, 2009
BOB is, arguably, the best jogging stroller brand on the market today. The question is not whether or not to buy one, but rather which one is right for you and your lifestyle. As a retailer that sells tons of these strollers, we get this question every day. So, here's what you need to know about BOB and how to go about choosing the right jogging stroller for your needs.
If you are a hard core runner, the BOB Sport Utility Stroller (SUS)
BOB Ironman Stroller
The BOB Revolution was a welcomed addition to the BOB family a few years ago. It's the swivel-wheeled version of the Sport Utility Stroller that BOB is best-known for. It was created for parents that want the performance of a jogging stroller combined with flexibility and versatility of a standard everday stroller. If you like to walk on the beach, through the park, up a mountain, and through the tiny aisles at the supermarket, then the BOB Revolution Stroller
The BOB Revolution also comes in a 12″AW (All-Wheel) version
All BOB stroller models are available as Duallies (double stroller) as well.  You will compromise a bit  on performance, but with 2 kids you must be used to compromise by now! All BOB Duallie Strollers
So, remember, the scale from hardcore runner to casual stroller starts with the Ironman (large, fixed wheels), and follows with the SUS, the Revolution, and finally the Revolution AW (small wheels with a swivel).
Tweet This Post
bob revolution stroller review
bob stroller review
bob strollers
choosing bob stroller
compare bob stroller
Posted in
Baby Products
Product Reviews
Uncategorized
No Comments »