August 26th, 2011
We just received these Natursutten pacifiers
The larger than normal shield (the round base) is round and flat, so it won't leave any marks on your baby's face. It's also too large for an infant to squeeze the entire pacifier in their mouths, so they won't choke. All-in-all, a terrific product. The only down side is that they will need to be replaced often (approx. every 4 to 5 weeks). That's the price you pay for an all-natural product!
Tweet This Post
pacifier
rubber pacifier
Posted in
Baby Products
Product Reviews
No Comments »
February 1st, 2011
Pampered Tot has been investing in renewable energy and reforestation projects for a few years. We offset all of our carbon
emmissions produced by our offices, warehouse, and shipments. Additionally, Pampered Tot introduced a program in 2009 where we plant trees for every stroller sold online or in our Hermosa Beach Store. If that's not enough, we just launched our newest program "Bags for Trees", where we have committed to planting a tree for every customer that declines a shopping bag at checkout in our store!
Our mission of planting trees for a better world for our cute little customers cannot be done alone! So, please join us by purchasing a stroller online, refusing a bag in our store, or making a donation to the Carbon Fund directly. Together, we can make a difference!
Tweet This Post
plant a tree
Posted in
About Us
Buy a Stroller...Plant a Tree
Eco-Friendly
No Comments »
January 31st, 2011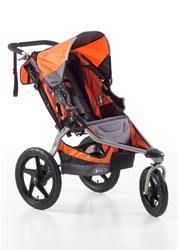 New Terminology
BOB is abandoning the "AW" or All-Wheel term. Instead, they are classifying their strollers into two categories; CE for City Experience and SE for Sport Experience. For those of you that are familiar with the brand, the AW strollers featuring 3 12″ wheels are now known as "CE
SE
Fabrics
New fabrics provide more technical benefits and bold new colors. The 2011 BOB Strollers are now available in Orange, Red, Navy, Yellow, Blue, Black, and Plum. If I had to try to describe the new fabrics, I'd say that they are more vibrant, lighter, and more resistant to the elements.
Integrated Accessory Adapter
This is perhaps the biggest change for the 2011 line. Brand new for all BOB strollers, the integrated accessory adapter allows for quick and easy installation of BOB infant car seat adapters and snack trays. Instead of having to bring your stroller into a bike shop and having to unscrew your adapter, this new system allows you to install and remove the adapters with the click of a button. Also, instead of a "one size fits all" adapter, BOB came out with separate adapters for each brand of car seat. BOB Single Strollers are now compatible with Graco, Peg Perego, and new for this year, Chicco Infant CarSeats. The BOB Duallie Strollers are compatible with the Graco Infant Car Seat adapter only.
The new and improved snack tray has room for a sippy cup, snacks, and more!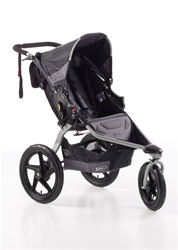 Improved Seat and Harness
With the new seat fabrics, BOB has also re-engineered the stroller seat itself. The ultra-supportive, redesigned seat now features heat press technology for additional padding and added back support. In layman's terms, the seat has pockets of padding throughout the seat, similar to a pair of well padded bike shorts! Ultra soft and incredibly comfortable. The 5-point seat harness now features more padding to help secure children much more comfortably.
Stroller Lock
The 2011 BOB Strollers all feature a new buckle that fastens the stroller while folded. So, now your stroller will stay folded and safely locked in place.
Suspension System
The award winning (well, I'm not sure if they actually won an award, but we love it!) suspension has been improved as well. We can't imagine a smoother ride, but BOB continues to improve their already flawless product. 
BOB has really pulled out all the stops with this stroller. They managed to take the best jogging stroller on the market and improve upon it without losing their signature BOB style. We have been huge fans of this brand for years. With these new improvements to their 2011 BOB Stroller line, we are even more enthusiastic about the brand.
For those parents looking for an exceptional jogging stroller, or even a great all around stroller, BOB will not disappoint.   
Tweet This Post
2011 BOB Stroller Review
bob stroller review
Posted in
Baby Products
BOB
Product Reviews
8 Comments »
April 29th, 2010
As all of you may have already heard, Stokke is coming out with the new 2010 Stokke Xplory Stroller this summer. Due to be released in June, it has now been pushed back to July 1st.
After playing around with the stroller for a while, I want to share my thoughts with you in hopes of answering most of your questions about it. There are several great blog entries about the new Xplory already on the web, so I thought I would focus on answering the most common or popular questions we've been receiving from our customers.
If you have the current Xplory in stores now, it IS possible to upgrade to the new one. For $399, Stokke will be offering a stroller seat package which will include the seat, seat fabric, canopy, and under seat bag. So, if you are getting ready for your second child and want to give your existing stroller a face lift, you are in luck!
So, what's different about the stroller?
If you have an Xplory with serial number greater than 113464 (these have been in stores for months), the chassis will be almost exactly the same. The only differences are:
Chassis (Stroller Seat
Frame)
Brake pedal is now Red, not Cream colored
There are 2 clips on the frame to hang your Stokke Changing Bag
The under seat bag has been completely remodeled. It's larger, has a zipper closure instead of a drawstring, and fastens to the chassis much easier than the current model.
Bassinet (available with the Stokke Xplory Complete Stroller Only)
The hard plastic shell that makes up the bassinet is exactly the same. The difference are:
Textile set (fabric inside the bassinet) is completely different. Stokke replaced the current fabric with a new micro-fiber material. It's designed to create a softer and smoother look and feel. It will also take moisture away from your child more efficiently, to keep them dry and cool. It's also water resistant.
The Canopy now has a visor (2 inch lip on the edge of the canopy). You can extend it or leave it tucked in. When extended, it gives your child more shade from harmful sun rays.
There is a great mesh window on part of the canopy, designed for better ventilation. It can be opened and closed easily and securely.
Stroller Seat
This is where most of the changes are, such as;
Increased comfort with upgraded textiles (same as the Bassinet).
Deeper seat for increased comfort and support
The back of the seat (previously exposed plastic) is now coated with the same color seat fabric for a sharper, sleek look.
Tighter seat rail fabric padding with easy on/off capabilities.
The footrest features a one-handed adjustment, as opposed to the current model which features 2 clips.
The canopy is the same as the bassinet description above, complete with visor and mesh ventilation
The under seat bag is larger and zips up for added security and convenience
Accessories
So, what works and what doesn't from the current to new model? The short answer is that all current accessories will fit the new Xplory. Here are the details;
The new parasol does not need the clip/adapter piece anymore. It plugs right in. However, the current parasol WILL fit the new model
The Sleeping bag is now only offered in one color, cream. It had been completely redesigned and will match any color stroller. The current sleeping bags WILL fit the new model
The new Footmuff is softer, and has a drawstring to create a snug cocoon-like fit around your child. It's also a bit larger. The current footmuff WILL fit the new model
Car seat adapter have not changed at all and WILL fit the new model
The changing bag has been completely remodeled. The current bag WILL fit the new stroller
Also to come, Stokke is planning to add a summer kit (only to fit the New Xplory) and a sheepskin insert.
New Items
Stokke came out with a new Blanket that they refer to as the "Celebrity Blanket". It's soft and cuddly, but can also be used as a shield from the sun and wind. With 2 convenient snaps, it clips around the stroller canopy securely so that it won't fly off. As a parent, I definitely appreciate that feature.
The Stokke Xplory Rider
Colors:
The new Stokke 2010 Xplory Stroller will be offered in 6 colors; Red, Purple, Green, Dark Navy, Blue, and Beige.
Price:
The Price will be increasing slightly. The Stokke Xplory Complete Stroller will retail for $1259.99. the Basic (without bassinet) will be $1059.99
Pre-Order Schedule
The New 2010 Stokke Xplory Stroller will be available for pre-order in June for delivery during the first week of July. The dates may change, but this is what it is looking like at this point in time.
PRE-ORDER NOW:  Click Here
In the meantime, if you have any other questions, feel free to contact us anytime.

Tweet This Post
New Stokke Xplory Stroller Review
Posted in
Stokke
Uncategorized
4 Comments »
April 29th, 2010
We have been receiving an average of 60 phone calls daily about the new Orbit G2 line and when to expect delivery. So, I wanted to inform you all of what is going on in the world of Orbit Baby and delivery times moving forward.
Orbit Baby
By the way, the product is outstanding! The improvements are incredible. Although it has been a long and frustrating wait, it's worth it! (based on the customer feedback that we have been receiving over the past 3 weeks).
I would also like to take this moment to apologize for the lengthy delay. Although it's out of our control, we still feel terrible that it has taken this long to get you strolling again in your new G2 stroller and/or accessories. So, thank you for sticking with us, and for sticking with the Orbit Baby brand. Should you guys have any questions about your orders, delivery times, or product information, please contact us anytime. As always, with a toll-free number, instant chat, and email, we are available 7-days a week from 8am to 10pm PST.
Tweet This Post
Shipping Date for Orbit Baby
Posted in
Baby Products
Product Updates
No Comments »
April 27th, 2010
At www.PamperedTot.com
The Bugaboo Cameleon
Bugaboo Frog
The Cameleon has these added features:
The Stroller Seat is 2 inches longer
The Handlebar is adjustable
The underseat bag is larger
The front wheels have spring-loaded shocks
The color options
So, after reading through the list of Cameleon extras, what should you do? Well, that depends on you. If you are tall and want to make sure your feet don't constantly hit the stroller when you walk, the handlebar extension is a great feature. If you plan to use the stroller until your child grows out of it, the extra 2 inches in length on the stroller seat will ensure longer use. If you have a girl and want pink, then have a boy for your second child and need to switch your stroller to blue, a $99 Tailored Fabric Set
You can't go wrong with either stroller. They are both excellent products that will last longer than you need them to. Our Cameleon is 5 years old, and is just as functional and great looking for our second child as it was when we bought it. If you need more guidance or assistance with your purchase, please let us know.
Tweet This Post
Bugaboo Stroller Comparison
Posted in
Baby Products
Product Comparisons
No Comments »
April 23rd, 2010
The New Stokke Xplory Rider Board
I have to say that it's, by far, the best stroller-branded board we've seen. It's sleek, easy to put on, and extremely easy to use. It took a long while, but now Stokke Xplory Stroller users can finally hitch 2 kids on this totally awesome ride!
The setup is simple. Take it out of the box, the clip the 2 ends of the board into the clips alredy provided on your current Strokke Xplory Stroller chassis. PLEASE NOTE: This new Rider Board is only compatible with Stokke Xplory Strollers with serial number 113464 or higher. 
The use is just awesome. Unlike many wheeled rider board, Stokke's version requires absolutely no hardware or dangling cords. When in use, it glides smoothly under the seat handle. When you're done with it, just kick it up. It fastens completely out of the way and onto the stroller chassis with an ultra strong magnet. There no need to tie it to anything. Once it's up, it will not get in the way of your walking stride at all. I was really amazed.
So, for all you Stokke fans waiting for the Rider, it's now available
Tweet This Post
Stokke Xplory Stroller Rider Board Review
Stokker Rider Board Review
Posted in
Baby Products
Product Reviews
No Comments »
April 14th, 2010
Thanks for waiting everyone! The New 2010 Bugaboo Bee Stroller has arrived and is ready to ship today! For complete details on the stroller, feel free to read our formal review from January 2010, and click here
We also received the New Maxi-Cosi Mico Infant Car Seat Adapter
Bugaboo Bee Breezy Sun Canopy
If you have any questions, please contact us anytime via online chat, email, or toll-free at 1-866-271-5437. Happy Shopping!
Tweet This Post
Posted in
Uncategorized
No Comments »
April 6th, 2010
Hi loyal Pampered Tot Fans!
It's been a little while since our last entry. I sincerely apologize for that. I know that so many of you rely on our reviews and general baby news. We have been fortunate enough to have started 2010 with the same feverish growth pace as we ended with in 2009. Thus the reason for our little hiatus…
There are many exciting new things happening at Pampered Tot and with many of the brands we carry. With the launch of the new Bugaboo Bee coming in May, Stokke's new Xplory coming in June, BOB's new Revolution in the Summer, and Orbit Baby's G2 launch this week, there is alot to get excited about in the world of baby strollers. We will be reviewing the BOB Revolution and Stokke Xplory shortly. The Orbit Baby and Bugaboo Bee strollers have already been covered in earlier blog entries.
We also started carrying Britax Car Seats
In mid-summer, Pampered Tot will be opening a new retail storefront! Stay tuned for more information as it becomes available.
Overall, we are thrilled with 2010 so far, and are excited about all the fantastic new product developments to come later this season. Thanks again for your loyalty and continued interest. We look forward to communicating with you on a more frequent basis from now on! 
Tweet This Post
No Comments »
January 19th, 2010
The new Bugaboo Bee Stroller will be coming soon. The official date has not been announced, but it will be sometime in the Spring of 2010. Our best guest is sometime between May and July. We are all anxiously awaiting its' release.
The new 2010 Bugaboo Bee Stroller will look very similar to its' predecessor, however, there have been a few significant changes to improve the overall performance of the stroller. It looks like the designer, Jaap Der Boer, and the development team at Bugaboo listened to what customers had to say about the old Bugaboo Bee and worked hard to improve the already popular stroller. The seat is much larger and more aerodynamic and the knobs are easier to adjust and turn.
Some of the noteable changes are:
New Backrest
The new Bugaboo Bee features a height-adjustable backrest that simultaneously adjusts with the sun canopy and 5-point harness to four different height positions; a ground-breaking feature that has not yet been seen on any stroller in the market. This feature extends the height of the seat from 20 to 23.2 inches.
Backrest Shape
The new ergonomically shaped backrest has been redesigned to mirror the natural shape of a child's back making the new Bugaboo Bee more comfortable for the child.Reversible Seat
The reversible seat has been re engineered with a circular joint system that allows the seat to be easily reversed so the child can either face the parent or the world.Wheels and Suspension
New rubber material and signature Bugaboo open star wheel design combine with less rigid, shorter springs for better driving Brakes
Optimized brake system. The way the brake works is the same, but the mechanism has been optimized to keep the brakes secure at all timesAccessories
The new Bugaboo Bee will now be compatible with the Maxi-Cosi Mico Bugaboo Cameleon Bugaboo Frog
Tweet This Post
Bugaboo Bee Review
New Bugaboo Bee Review
New Bugaboo Bee Stroller
Posted in
Baby Products
Brands
Bugaboo
Product Reviews
1 Comment »