August 26th, 2011
We just received these Natursutten pacifiers
The larger than normal shield (the round base) is round and flat, so it won't leave any marks on your baby's face. It's also too large for an infant to squeeze the entire pacifier in their mouths, so they won't choke. All-in-all, a terrific product. The only down side is that they will need to be replaced often (approx. every 4 to 5 weeks). That's the price you pay for an all-natural product!
Tweet This Post
pacifier
rubber pacifier
Posted in
Baby Products
Product Reviews
No Comments »
January 31st, 2011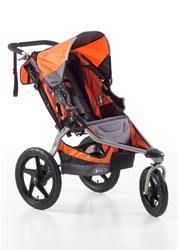 New Terminology
BOB is abandoning the "AW" or All-Wheel term. Instead, they are classifying their strollers into two categories; CE for City Experience and SE for Sport Experience. For those of you that are familiar with the brand, the AW strollers featuring 3 12″ wheels are now known as "CE
SE
Fabrics
New fabrics provide more technical benefits and bold new colors. The 2011 BOB Strollers are now available in Orange, Red, Navy, Yellow, Blue, Black, and Plum. If I had to try to describe the new fabrics, I'd say that they are more vibrant, lighter, and more resistant to the elements.
Integrated Accessory Adapter
This is perhaps the biggest change for the 2011 line. Brand new for all BOB strollers, the integrated accessory adapter allows for quick and easy installation of BOB infant car seat adapters and snack trays. Instead of having to bring your stroller into a bike shop and having to unscrew your adapter, this new system allows you to install and remove the adapters with the click of a button. Also, instead of a "one size fits all" adapter, BOB came out with separate adapters for each brand of car seat. BOB Single Strollers are now compatible with Graco, Peg Perego, and new for this year, Chicco Infant CarSeats. The BOB Duallie Strollers are compatible with the Graco Infant Car Seat adapter only.
The new and improved snack tray has room for a sippy cup, snacks, and more!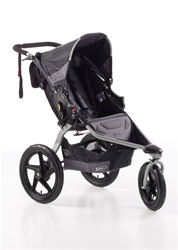 Improved Seat and Harness
With the new seat fabrics, BOB has also re-engineered the stroller seat itself. The ultra-supportive, redesigned seat now features heat press technology for additional padding and added back support. In layman's terms, the seat has pockets of padding throughout the seat, similar to a pair of well padded bike shorts! Ultra soft and incredibly comfortable. The 5-point seat harness now features more padding to help secure children much more comfortably.
Stroller Lock
The 2011 BOB Strollers all feature a new buckle that fastens the stroller while folded. So, now your stroller will stay folded and safely locked in place.
Suspension System
The award winning (well, I'm not sure if they actually won an award, but we love it!) suspension has been improved as well. We can't imagine a smoother ride, but BOB continues to improve their already flawless product. 
BOB has really pulled out all the stops with this stroller. They managed to take the best jogging stroller on the market and improve upon it without losing their signature BOB style. We have been huge fans of this brand for years. With these new improvements to their 2011 BOB Stroller line, we are even more enthusiastic about the brand.
For those parents looking for an exceptional jogging stroller, or even a great all around stroller, BOB will not disappoint.   
Tweet This Post
2011 BOB Stroller Review
bob stroller review
Posted in
Baby Products
BOB
Product Reviews
8 Comments »
April 29th, 2010
We have been receiving an average of 60 phone calls daily about the new Orbit G2 line and when to expect delivery. So, I wanted to inform you all of what is going on in the world of Orbit Baby and delivery times moving forward.
Orbit Baby
By the way, the product is outstanding! The improvements are incredible. Although it has been a long and frustrating wait, it's worth it! (based on the customer feedback that we have been receiving over the past 3 weeks).
I would also like to take this moment to apologize for the lengthy delay. Although it's out of our control, we still feel terrible that it has taken this long to get you strolling again in your new G2 stroller and/or accessories. So, thank you for sticking with us, and for sticking with the Orbit Baby brand. Should you guys have any questions about your orders, delivery times, or product information, please contact us anytime. As always, with a toll-free number, instant chat, and email, we are available 7-days a week from 8am to 10pm PST.
Tweet This Post
Shipping Date for Orbit Baby
Posted in
Baby Products
Product Updates
No Comments »
April 27th, 2010
At www.PamperedTot.com
The Bugaboo Cameleon
Bugaboo Frog
The Cameleon has these added features:
The Stroller Seat is 2 inches longer
The Handlebar is adjustable
The underseat bag is larger
The front wheels have spring-loaded shocks
The color options
So, after reading through the list of Cameleon extras, what should you do? Well, that depends on you. If you are tall and want to make sure your feet don't constantly hit the stroller when you walk, the handlebar extension is a great feature. If you plan to use the stroller until your child grows out of it, the extra 2 inches in length on the stroller seat will ensure longer use. If you have a girl and want pink, then have a boy for your second child and need to switch your stroller to blue, a $99 Tailored Fabric Set
You can't go wrong with either stroller. They are both excellent products that will last longer than you need them to. Our Cameleon is 5 years old, and is just as functional and great looking for our second child as it was when we bought it. If you need more guidance or assistance with your purchase, please let us know.
Tweet This Post
Bugaboo Stroller Comparison
Posted in
Baby Products
Product Comparisons
No Comments »
April 23rd, 2010
The New Stokke Xplory Rider Board
I have to say that it's, by far, the best stroller-branded board we've seen. It's sleek, easy to put on, and extremely easy to use. It took a long while, but now Stokke Xplory Stroller users can finally hitch 2 kids on this totally awesome ride!
The setup is simple. Take it out of the box, the clip the 2 ends of the board into the clips alredy provided on your current Strokke Xplory Stroller chassis. PLEASE NOTE: This new Rider Board is only compatible with Stokke Xplory Strollers with serial number 113464 or higher. 
The use is just awesome. Unlike many wheeled rider board, Stokke's version requires absolutely no hardware or dangling cords. When in use, it glides smoothly under the seat handle. When you're done with it, just kick it up. It fastens completely out of the way and onto the stroller chassis with an ultra strong magnet. There no need to tie it to anything. Once it's up, it will not get in the way of your walking stride at all. I was really amazed.
So, for all you Stokke fans waiting for the Rider, it's now available
Tweet This Post
Stokke Xplory Stroller Rider Board Review
Stokker Rider Board Review
Posted in
Baby Products
Product Reviews
No Comments »
January 19th, 2010
The new Bugaboo Bee Stroller will be coming soon. The official date has not been announced, but it will be sometime in the Spring of 2010. Our best guest is sometime between May and July. We are all anxiously awaiting its' release.
The new 2010 Bugaboo Bee Stroller will look very similar to its' predecessor, however, there have been a few significant changes to improve the overall performance of the stroller. It looks like the designer, Jaap Der Boer, and the development team at Bugaboo listened to what customers had to say about the old Bugaboo Bee and worked hard to improve the already popular stroller. The seat is much larger and more aerodynamic and the knobs are easier to adjust and turn.
Some of the noteable changes are:
New Backrest
The new Bugaboo Bee features a height-adjustable backrest that simultaneously adjusts with the sun canopy and 5-point harness to four different height positions; a ground-breaking feature that has not yet been seen on any stroller in the market. This feature extends the height of the seat from 20 to 23.2 inches.
Backrest Shape
The new ergonomically shaped backrest has been redesigned to mirror the natural shape of a child's back making the new Bugaboo Bee more comfortable for the child.Reversible Seat
The reversible seat has been re engineered with a circular joint system that allows the seat to be easily reversed so the child can either face the parent or the world.Wheels and Suspension
New rubber material and signature Bugaboo open star wheel design combine with less rigid, shorter springs for better driving Brakes
Optimized brake system. The way the brake works is the same, but the mechanism has been optimized to keep the brakes secure at all timesAccessories
The new Bugaboo Bee will now be compatible with the Maxi-Cosi Mico Bugaboo Cameleon Bugaboo Frog
Tweet This Post
Bugaboo Bee Review
New Bugaboo Bee Review
New Bugaboo Bee Stroller
Posted in
Baby Products
Brands
Bugaboo
Product Reviews
1 Comment »
January 15th, 2010
This is always a difficult question to answer, and usually ends with 2 stroller purchases rather than one. These days, one stroller doesn't seem to do the trick anymore. We are spoiled and used to the conveniences that are out there nowadays. Parents are looking for a lightweight, compact, full featured, all-terrain do-it-all stroller. While many strollers succeed in providing most of the functionality you need, you still might want a backup. After all, a jogging stroller is never a top choice when wheeling your kids onto the plane…Conversely, you wouldn't want to jog with a lightweight compact stroller with wheels the size of your palm.
So, when selecting a stroller that's right for you, try not to make it a brand-driven decision. Ask yourself what you'd like it to do for you, and make your choice around your lifestyle. Your stroller will be with you for a while. So, if it doesn't work for you, it will be a frustrating and expensive mistake that you will be reminded of every day for the next 4 years.
The most important question you should ask yourself is "What am I going to use it for?". If you are a jogger, and enjoy the outdoors, you may want a stroller built specifically for that. Then opt for a "family" stroller as your backup. If you are constantly in and out of the car, go for something more lightweight, compact, and easy to fold. Your back will be thanking you later…
Whether you choose a Bugaboo, BOB, Stokke Xplory, Quinny, Maclaren, Peg Perego or an Orbit Baby
If you need some help choosing a stroller that is right for you
Tweet This Post
how to choose a stroller
Posted in
Baby Products
Frequently Asked Questions
No Comments »
January 5th, 2010
I love the Buggy Bagg – so convenient.  My son hates the infant car seat, and I always had to carry him around the grocery store in a baby carrier, which works, but can be cumbersome when reaching for heavy items.  I always felt like something would fall on him.  Now that he is 6 months and can sit up on his own, I decided to try the Buggy Bagg Shopping Cart Cover
I have used it twice in two days and I love it.  First of all, you can position the Buggy Bagg shopping cart cover into the shopping cart using only one hand if necessary – which always comes in handy when holding a baby or extra large coffee.  The Buggy Bagg unfolds into the cart with the release of one large and very smooth zipper.  Once opened, it is like a little padded oasis for your baby.  I have the jungle pattern which is very bright and colorful (but it is available in more subdued prints).  There is a storage compartment which hangs behind the "seat" of the shopping cart – which can be used for wipes, toys or snacks.  Also, the Buggy Bagg extends over the handle of the shopping cart, which creates a resting place for a child's toys or snacks.  The Buggy Bagg is extremely convenient, hygienic and fun.  I recommend it for anyone who regularly shops with an infant or toddler.
Tweet This Post
buggy baggs shopping cart cover
Posted in
Baby Products
Product Reviews
Uncategorized
2 Comments »
December 18th, 2009
Our family uses most of the products we sell. That's how we seperate the great from the not-so-great. The combination of having 3 floors in our house and a 6-month old baby made me realize just how great this item really is. The Skip Hop Toolbox Diaper Caddy
The box itself is made of hard plastic, totally maintenance free and easy to wipe down. It's got 2 handy side slots and 2 little drawers for the small stuff. 
I spend most of my weekends up and down the stairs, going from room to room in a never-ending quest to entertain my kids when we aren't at the beach or the park. With all that moving around, the ToolBox is a great lifesaver. It's got enough space to hold everything you need for a diaper change and/or a cleanup. We've got our wipes, diapers, changing pad, baby powder, cream, swabs, nail clippers, and a few other things that I can't think of because my wife's the one who fills it up! Of course, if you are looking for a great stationary storage organizer, this Skip Hop Diaper Caddy is great for the nursery as well. So whether you leave it there, or carry it around the house, I highly recommend it to organize and simplify your diaper changing "experience". 
Tweet This Post
skip hop review
skip hop toolbox diaper caddy review
skip hop toolbox review
Posted in
Baby Products
Product Reviews
No Comments »
December 17th, 2009
So, it's the holidays and it's really time to get shopping. While we seem to busy from Thanksgiving Weekend until December 23rd, nothing beats to crazy rush starting today until Christmas Eve. It's tough to find the perfect gift for expectant parents and their kids. So I thought I would share some of our favorites and best-sellers for this season with you.
If you are looking for great quality and great packaging, the Serena & Lily Market Sling
Take Me Home Gift Set
If you are anything like we were when our son, Dylan, was born, you'll want to keep a daily record of sleep and feeding times and quantities to help with scheduling. The Skip Hop Day To Night Baby Log Book
If you are looking for toys, we always recommend anything from HABA
If you are opting for something on the useful side, Aden & Anais
One of my favorite items is one that I've already written about earlier this month, the BEABA Babycook
Of course, the natural choice in baby carriers, after you are done with your baby sling, is the Ergo Baby
A relative newcomer to the baby products industry, Think Baby is making waves with their line of BPA free feeding products. Again, a product that we currently use with our kids, the Think Baby Complete Feeding Set
If you are ready to pull out the big bucks, Stokke
Tripp Trapp Chair
CARE changing table
Xplory
Tweet This Post
best baby gifts
Posted in
Baby Products
Product Comparisons
No Comments »