March 3rd, 2014
Stokke Steps
For your newborn, baby, toddler and youngster, Stokke Steps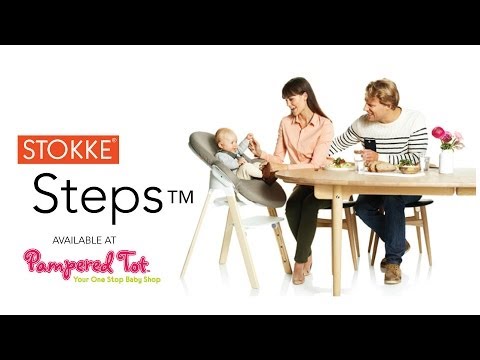 Tweet This Post
Stokke High Chair
Stokke Steps
Stokke Tripp Trapp
Posted in
Baby Products
Stokke
No Comments »
February 28th, 2014
We've loved the Stokke Tripp Trapp High Chair
Take a look at the Stokke Tripp Trapp High Chair
Tweet This Post
Stokke Tripp Trapp Chair
Stokke Tripp Trapp High Chair
Posted in
Baby Products
Stokke
No Comments »
April 29th, 2010
As all of you may have already heard, Stokke is coming out with the new 2010 Stokke Xplory Stroller this summer. Due to be released in June, it has now been pushed back to July 1st.
After playing around with the stroller for a while, I want to share my thoughts with you in hopes of answering most of your questions about it. There are several great blog entries about the new Xplory already on the web, so I thought I would focus on answering the most common or popular questions we've been receiving from our customers.
If you have the current Xplory in stores now, it IS possible to upgrade to the new one. For $399, Stokke will be offering a stroller seat package which will include the seat, seat fabric, canopy, and under seat bag. So, if you are getting ready for your second child and want to give your existing stroller a face lift, you are in luck!
So, what's different about the stroller?
If you have an Xplory with serial number greater than 113464 (these have been in stores for months), the chassis will be almost exactly the same. The only differences are:
Chassis (Stroller Seat
Frame)
Brake pedal is now Red, not Cream colored
There are 2 clips on the frame to hang your Stokke Changing Bag
The under seat bag has been completely remodeled. It's larger, has a zipper closure instead of a drawstring, and fastens to the chassis much easier than the current model.
Bassinet (available with the Stokke Xplory Complete Stroller Only)
The hard plastic shell that makes up the bassinet is exactly the same. The difference are:
Textile set (fabric inside the bassinet) is completely different. Stokke replaced the current fabric with a new micro-fiber material. It's designed to create a softer and smoother look and feel. It will also take moisture away from your child more efficiently, to keep them dry and cool. It's also water resistant.
The Canopy now has a visor (2 inch lip on the edge of the canopy). You can extend it or leave it tucked in. When extended, it gives your child more shade from harmful sun rays.
There is a great mesh window on part of the canopy, designed for better ventilation. It can be opened and closed easily and securely.
Stroller Seat
This is where most of the changes are, such as;
Increased comfort with upgraded textiles (same as the Bassinet).
Deeper seat for increased comfort and support
The back of the seat (previously exposed plastic) is now coated with the same color seat fabric for a sharper, sleek look.
Tighter seat rail fabric padding with easy on/off capabilities.
The footrest features a one-handed adjustment, as opposed to the current model which features 2 clips.
The canopy is the same as the bassinet description above, complete with visor and mesh ventilation
The under seat bag is larger and zips up for added security and convenience
Accessories
So, what works and what doesn't from the current to new model? The short answer is that all current accessories will fit the new Xplory. Here are the details;
The new parasol does not need the clip/adapter piece anymore. It plugs right in. However, the current parasol WILL fit the new model
The Sleeping bag is now only offered in one color, cream. It had been completely redesigned and will match any color stroller. The current sleeping bags WILL fit the new model
The new Footmuff is softer, and has a drawstring to create a snug cocoon-like fit around your child. It's also a bit larger. The current footmuff WILL fit the new model
Car seat adapter have not changed at all and WILL fit the new model
The changing bag has been completely remodeled. The current bag WILL fit the new stroller
Also to come, Stokke is planning to add a summer kit (only to fit the New Xplory) and a sheepskin insert.
New Items
Stokke came out with a new Blanket that they refer to as the "Celebrity Blanket". It's soft and cuddly, but can also be used as a shield from the sun and wind. With 2 convenient snaps, it clips around the stroller canopy securely so that it won't fly off. As a parent, I definitely appreciate that feature.
The Stokke Xplory Rider
Colors:
The new Stokke 2010 Xplory Stroller will be offered in 6 colors; Red, Purple, Green, Dark Navy, Blue, and Beige.
Price:
The Price will be increasing slightly. The Stokke Xplory Complete Stroller will retail for $1259.99. the Basic (without bassinet) will be $1059.99
Pre-Order Schedule
The New 2010 Stokke Xplory Stroller will be available for pre-order in June for delivery during the first week of July. The dates may change, but this is what it is looking like at this point in time.
PRE-ORDER NOW:  Click Here
In the meantime, if you have any other questions, feel free to contact us anytime.

Tweet This Post
New Stokke Xplory Stroller Review
Posted in
Stokke
Uncategorized
4 Comments »
December 3rd, 2009
Table Top
Baby Set
At $249, it's pricey for a high chair. However, what most parents don't realize is that the Stokke Tripp Trapp is weight tested up to 200 pounds. Therefore, it can be used by parents as well! The stength of the chair allows kids to use it as a desk chair when they're done with it at the dinner table. It can be used with the Stokke CARE Changing Table
desk
The Tripp Trapp comes in 10 cool colors to match your dining room, or to provide contrast to make a bold statement. Parents can also choose from several fun chair cushion choices, making the Tripp Trapp the most stylish high chair we've ever seen.
There are several height adjustment options for both the seat and the footrest, accomodating the growth of your child for years to come.
At Pampered Tot, we sell hundreds of these every month, and for good reason. It's built well, made in Slovenia of solid wood. It has more uses than just a typical high chair. It's also really easy to clean.  There are no plastic parts with hard-to-clean and hard-to-reach nooks and crevices. It's also not a huge eye soar. The chair blends into the decor of your home, instead of created a whole new theme.
Sleak, stylish, and unbelievably practical, this chair gets high marks from us. As a store owner and as a parent with 2 kids and 2 Tripp Trapp Chairs, I give this product and the  Norwegian company that designed and built it very high marks. 
Tweet This Post
Stokke Tripp Trapp Review
Tripp Trapp High Chair
Posted in
Baby Products
Product Reviews
Stokke
1 Comment »