October 5th, 2011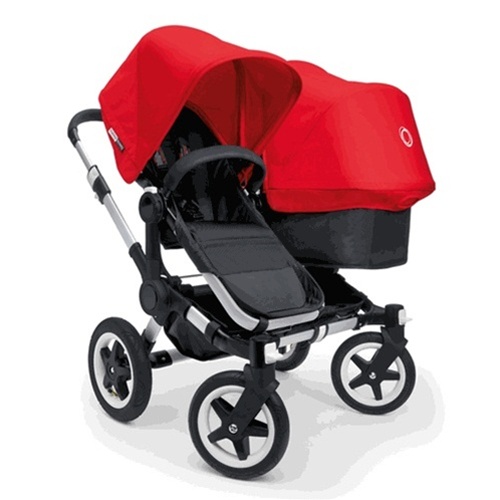 The Bugaboo Donkey had a limited production run in early April 2011. Customers snatched them up almost as fast as an iPhone on opening day. Since April, it's been hard to get one…until now. October 1st marked the nationwide release of the Bugaboo Donkey stroller, which is now available at many retail stores across the US. We started selling them a few days ago, and they are still flying out the door…
There has been so much publicity about this new breakthrough stroller, but there are still so many people that are not quite sure what it is or why and when to buy one. So, I wanted to take a few minutes to answer some of the FAQs we've been getting in hopes of providing you all with a better understanding of the wonderment that is the Bugaboo Donkey.
What's so great about this stroller?
The Bugaboo Donkey is a revolutionary product for it's function. It is a single stroller that will expand into a double. The expansion is made possible by releasing 3 clips and pulling the stroller out width-wise. It's really as easy as it sounds. It takes approx 15 seconds to expand or contract the stroller.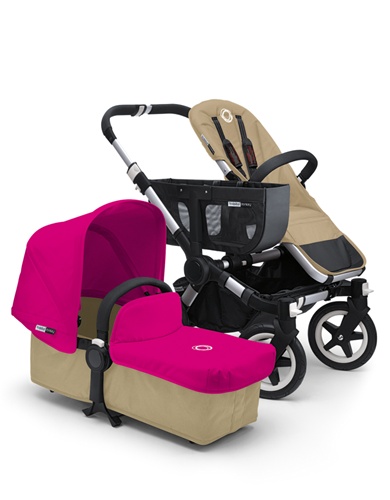 As a parent of 2 boys and a store owner selling these products, I'm a huge fan of strollers that can accommodate multiple children while still being able to function as a true single stroller. In years past, customers would purchase a large, clunky double stroller if they had 2 kids. However, what happens when you only have 1 of them that morning? Or the older one is now in pre-school. Do you just push your large double around with one empty seat? or perhaps buy a single stroller just for those days? Yesterday, I might have advised you to do one of those things. Today, there are a few stroller companies that have engineered the perfect strollers to accommodate a growing family. Bugaboo is one of them, and the Donkey is the newest and best (to-date).
There are 3 Bugaboo Donkey models. Which one should you buy?
Before I answer that, I'd like to clarify that all 3 models share the SAME stroller chassis (frame). So, whether you purchase the MONO, DUO, or the TWIN version, the stroller frame is exactly the same. The Bugaboo Donkey MONO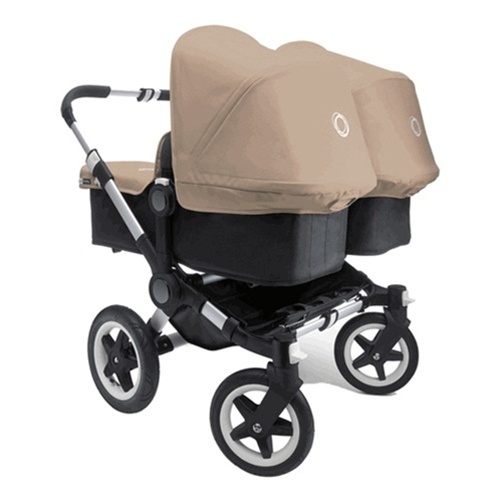 The Bugaboo Donkey DUO
Bugaboo Donkey Car Seat Adapters
So, again, regardless of the model you select, the stroller chassis (frame) will always be the same. So, if you are buying the Bugaboo Donkey MONO stroller now, all you need to purchase for baby #2 is the DUO extension kit which is essentially the second seat.
Can the Donkey fit through a normal doorway?
Yes! The Bugaboo Donkey MONO is 23.5 Inches wide. In the DUO/TWIN configuration, it's 29 inches. A standard doorway measures 30 inches. So, in every configuration, the Bugaboo Donkey will easily fit through the door.
Is it easy to fold?
Yes! The stroller folds much the same way as the Bugaboo Cameleon. In addition to the 2-piece fold, the Bugaboo Donkey can also be folded as 1-piece. It's a little bulkier and heavier to do it this way, but if you've got the space in your trunk it's a little quicker. The stroller weighs 28.6 pounds as a MONO and 33 pounds as a double (DUO/TWIN). Definitely one of the lighter doubles on the market.
What about accessories?
Bugaboo has updated most of their stroller accessories this season to be compatible with all Bugaboo Strollers. So, whether you have the Bugaboo Cameleon
Bugaboo Bee
Bugaboo Donkey
Footmuff
Seat Liners
Parasols
Wheeled Boards
Color Options
The Bugaboo Donkey is offered in 2 base colors, Sand and Black. The canopy (Stroller Canopy) and Tailored Fabric (Canopy + Bassinet Apron) colors are Black, Red, Off-White, Pink, Royal Blue, and Sand. In typical Bugaboo fashion, you can mix and match to create your own unique color pallet.
To sum it up, we think that the Bugaboo Donkey is an incredible product; a definite advancement in the stroller industry. Meeting the demands of a growing family, this stroller will be as popular in its MONO configuration as it is as a DUO/TWIN. It's been a long time coming, but Bugaboo certainly did not disappoint.  So, when you are thinking of dishing out about as much as you would for a used car, I would strongly consider this stroller.
Tweet This Post
bugaoo donkey review
Posted in
Baby Products
Bugaboo
Product Reviews
No Comments »