April 7th, 2014
Orbit Baby G3 System
Orbit Baby has spent years researching, testing and working from the ground up to create products that are elegantly simple, intuitive and unsurpaseed for safety. The Orbit Baby stroller is just one part of the wildly popular Orbit Baby Travel System. The system also includes the Orbit Baby Carriage
Orbit Baby Infant System
Orbit Baby Car Seat
Orbit Baby G3 Bassinet
Orbit Baby G3 Rocker Base
Orbit Baby Sidekick Stroller Board
Orbit Baby G3 Sunshade
Orbit Baby Stoller Panniers
Orbit Baby Double Helix
So how does the Orbit Baby G3 Travel System compare to the Orbit Baby G2 Stroller?

Orbit Baby G3 Stroller Base
Orbit Baby G3 Stroller Seat
Orbit Baby G3 Infant and Toddler Seats
Orbit Baby G3 Bassinet
Tweet This Post
orbit baby G3
orbit baby infant system
orbit baby stroller
orbit baby travel system
Posted in
Baby Products
No Comments »
March 3rd, 2014
Stokke Steps
For your newborn, baby, toddler and youngster, Stokke Steps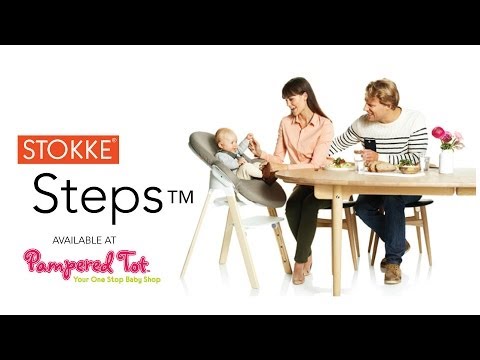 Tweet This Post
Stokke High Chair
Stokke Steps
Stokke Tripp Trapp
Posted in
Baby Products
Stokke
No Comments »
February 28th, 2014
We've loved the Stokke Tripp Trapp High Chair
Take a look at the Stokke Tripp Trapp High Chair
Tweet This Post
Stokke Tripp Trapp Chair
Stokke Tripp Trapp High Chair
Posted in
Baby Products
Stokke
No Comments »
October 15th, 2013
Orbit Baby's new and much anticipated G3 Stroller line was unveiling today at the annual ABC Kids Expo in Las Vegas, Nevada. Although there are not many significant changes to the overall look and design of the popular stroller system, the changes that were implemented were thoughtful and on point.
The most significant change is in the way Orbit Baby would like you to think about their products and the way in which to purchase them. Orbit Baby's products have always been interchangeable and flexible; as each seat has the ability to click into and/or on top of their car seat base (car seat only), stroller frame, and rocker. So, they will now present the components individually on a menu so that consumers can mix and match to create their own personalized Orbit Baby Stroller System.


Choose from three bases, four seats, and three different storage options to start with. Style your stroller by choosing a stroller frame color (Aluminum, and the new all-black), three different outer upholstery colors (Black, Mocha, Ruby Red), and nine different sunshade colors (Red, Raspberry, Peach, Blueberry, Teal, Mint, Slate, Black, and Khaki). The colorful Sunshades will be the most welcomed change, as the previous Orbit Baby G2 Stroller System
The Stroller Frame is now offered in All-Black! Since the launch of Orbit Baby's revolutionary Double Helix frame, which is offered in all-black, Orbit Baby single-stroller customers have been green with envy and patiently waiting for their turn to purchase one. With the launch of the G3 line of products, this will be an option.
Consumers looking to get their hands on one of these beauties, they will have to be patient. The retail launch is expected to be in the Spring of 2014. So, for those expectant parents due in the Spring, please stay tuned for more information. We will post updates and the ability to pre-order early in the new year. for parents that cannot wait until Spring, the G2 Stroller System is still available while supplies last! It's also important to note that all G3 and G2 components are fully compatible. This means that you can buy with confidence now, and upgrade a few components later!
The Orbit Baby Stroller System has been one of the top-selling luxury stroller products on the market for years. With the introduction of the G3 series, Orbit Baby maintains it's status as a progressive leader in the marketplace. I can't wait to see what they'll do next…
Tweet This Post
No Comments »
October 10th, 2012
The much anticipated double stroller from Orbit Baby
Orbit Baby Double Helix
It's a little early to review the customer experience with the Double Helix
Orbit Baby Double Helix
To start, Orbit Baby is selling the double as an add-on kit
Double Helix Frame
Orbit Baby Double Helix Upgrade Kit
So, now that it's assembled, what's it really like? Well, in a word..cool…unique…functional. Sorry, I know that's 3 words, but they are all so true. The stroller is unlike anything we've seen on the market so far. As true to function over form as the single stroller is, Orbit Baby continued with this trend for their Double Helix model. No, I'm not saying that it isn't attractive, but rather just pointing out that Orbit Baby's attention to function has really given them a huge advantage in the luxury stroller market. Anyone can make a nice
product, but to make it work the way it needs to is another story. Orbit Baby has continued to impress us with incredible attention to overall functionality and useful accessories, such as the Stroller Panniers
SideKick
What's included in the box? What's it all for? What does it all do?
Before I dive into this one, I will just point out the differences between the Orbit Baby Double Helix Frame
Orbit Baby Double Helix Upgrade Kit
The Double Helix Upgrade Kit comes with a new underseat bag, new handlebar, an iPad holder/sunshade, and of course the Double Helix rear seat frame. The underseat bag and handlebar are a bit of a departure from what you'll see on the single version (the Orbit Baby G2 Stroller), so I'll chime in on these two items in greater detail.
Underseat Bag
Although I love the convenience of the Cargo Pod, it's not as practical and convenient to access on the Double Helix. So, Orbit Baby created a new underseat storage bag that is more of a conventional open-faced bag. This allows quick and easy access from the front and back of the stroller. The two access-sides are spring loaded so that you can tug on them to reach down into the bag, and they'll just sling back into place when you let go. Great little feature. Again, it's the small things that impress me.
New HandleBar
Orbit Baby has departed from their traditional telescopic handles and opted for a longer, u-shaped continuous handlebar. It's lined with foam, and is adjustable to
fit perfectly over your child sitting on the rear seat. The handlebar can adjust both in length (2 settings) and height (3 settings). It also comes with a new tray featuring 2 cup holders (instead of one, which is standard on the single stroller) and a cell phone compartment. If you'd like to shade your child from the sun on the rear seat, there is an iPad holder/sunshade (included) that fits on the handlebar. I'm not sure how many people will be using it as a iPad holder, but with all of those incredible apps out there (with a pedometer or maps app etc…), not to mention iTunes for listening to music, it might be very useful .
Great, but how does it handle?
Like it's on rails. Seriously, it's really smooth. This six-wheeler handles well and turns on a dime (thanks to 2 front and 2 back swiveling wheels). It's definitely long, but really doesn't feel to daunting. From the handlebars, you still have great arms-reach-access to the front stroller seat.
Can you really fit all Orbit Baby Products on each Pod?
Yes, you really can! Two bassinets, Stroller seats, Infant Car Seats, or a variation of all three can easily fit on the Orbit Baby Double Helix. One important thing to note, however, is that the Stroller Seat, bassinet, and the Infant Car Seat cannot face the parent while on the pod closest to you. On the rear pod, you can get a 270 degree rotation, but not all the way around. This didn't matter to us when testing it, and I don't suspect it will matter to you either. So, if you would like your child to face you, they will have to be positioned on the stroller seat farthest away from you.
How does it fold up?
Very easily. Since you have to remove the upgrade kit from the stroller to fold it, the Orbit Baby Double Helix doesn't take up much more space than the single version. The only added steps are the removal of the back pod (which can be done with a quick, one-handed push and pull), and the folding of the new extended handlebar (which takes 2 seconds). What takes up more trunk space is the addition of a second stroller seat.
Can I use all of the great accessories that Orbit Baby currently makes?
Almost. The only accessory that will not fit on the Double Helix is the SideKick Board. So, if you were thinking of fitting 4 kids on the stroller, it's not going to happen. That would have been a cool feature! Then again, how many of us could even push (or would want to push) a stroller with 4 kids on it!
Will it fit in the Orbit Baby Travel Bag?
Yes. The Double Helix Upgrade Kit is pretty small. It can be safely stowed in the travel bag.
What if I only have one child with me?
This is the part I love talking to parents about. In the old days (2 years ago), double strollers were not flexible or modular. If you had children of different ages, one would be in school while the other was with you for the day. You know what I'm talking about if you've seen mom's pushing a large double stroller around with one seat empty! Like the Bugaboo Donkey, the Orbit Baby Double Helix is a modular product. It can be a double when you need it, and convert back to a single when you don't. The conversion process takes less than 2 seconds. A quick squeeze and release of the upgrade kit and you're off!
To make things easier for our customers, we put together Orbit Baby Double Helix Bundles that vary depending on the age of your kids. If you have 2 children of different ages, the Orbit Baby Double Helix Stroller System
Orbit Baby Double Helix Stroller Complete
We've seen many strollers come onto the market in recent years, and have tons of experience with almost every brand on the market. Orbit Baby has always impressed us and continues to do so with the introduction of the Double Helix. Whether you are looking for a great single stroller with the capability to grow with your family into a double stroller, or you are looking for a versatile double stroller that can adapt to a busy life with two kids, I highly recommend putting Orbit Baby's Double Helix on your list.
Tweet This Post
Product Reviews
Uncategorized
No Comments »
September 6th, 2012
The New Bugaboo Cameleon3 Stroller
So, you may ask yourself what the real differences are, and how they will really affect you and your decision to buy one of these beauties. Here's a helpful rundown for you;
Color Options
New for the launch of the Bugaboo Cameleon3 Stroller is a brand new base color. Black has now joined the lineup, along with current colors Sand, Dark Brown, and Dar Grey. Even though the Dark Grey color often passes for black, more and more customers have been asking for a true black and Bugaboo delivered.
Tailored Fabric Sets
This is, perhaps, the most noticeable aesthetic change. Previously, the tailored fabrics came in 3-piece sets; (1) the stroller canopy, (2) the bassinet apron, and (3) the seat inlay. Going forward, Bugaboo made the tailored fabrics 2-piece sets consisting of the stroller canopy and bassinet apron only. This creates a more visually streamlined look. To make this easier to visualize, your stroller seat will now be the color of your base color (Sand, Black, Dark Brown, or Dark Grey). The seat inlay or "slip cover" is gone! Also new to this year's color pallet is the introduction of Petrol Blue.
Easy Unfolding
For those of you who have tried the current Bugaboo Cameleon, this will resonate well. Bugaboo removed the two small clips that hold the stroller chassis' front and rear frames together when collapsed. Without these clips unfolding the stroller is much simpler and easier.
Refreshed Design
As I eluded to earlier, the design has not changed much. However, what has been changed makes a huge difference. The main aesthetic difference is in the front wheel top rims. In the previous version, the front wheels penetrated trough the wheel slots much like a stem on a fruit. The Bugaboo Cameleon3 Stroller has a clean cap, or to use my fruit analogy, the stem has been sliced off! It creates a much cleaner look. The other noticeable change is in the wheels. The design is more current with eye catching 5-Star spokes.
One Hand Release Bassinet
Bassinet can be released by one hand from the chassis. You will still need to push the bassinet release button on each side, but it's now possible to push one at a time, rather than having to push them both at the same time (thus needing 2 hands).
Easy Releasing Wheels
All Bugaboo Cameleon3 wheels can easily be released by Bugaboo's recognizable white buttons. This feature is particularly useful when putting the stroller in the Bugaboo Transport Bag.
Stronger chassis
The chassis is made even stronger; the new construction of the connecting plastic joints and the aluminum tubes going into those parts, makes the total stroller more solid. I have, personally, had a Bugaboo Cameleon stroller for 5 years and never had an issue. So, I can imagine that reinforcing an already tried and tested product will only lead to more satisfied customers and an even longer usage cycle.
Flat Fold Bassinet (With Attached Fillets)
Fold your bassinet fully flat with a few easy adjustments for compact transportation and storage. The basinet supports, or fillets as they are more formally referred to as, are much easier to put up and take down. This makes it very easy to fold it up and make it more compact in a hurry. To ensure that you never lose them, these fillets are now woven into the bassinet fabric.
Padded Adjustable Harness
The height-adjustable shoulder buckles secure a safe fit for a growing child. Basically, the seat buckle padding is a little thicker and more comfortable. Additionally, it is now easier to tighten the straps to secure your child once in the seat, making it safer than ever.
Maximized Underseat Bag
The maximized underseat bag optimally uses the available space under the stroller for storage of your goods and can be closed, so your belongings don't fall out when carrying the compact chassis. If you are very familiar with the old Bugaboo Cameleon Stroller, you will notice that this bag fastens to the stroller frame easier (with clips rather than velcro), and is slightly larger.
Carry Handle
The Bugaboo Cameleon3 Stroller carry handle can swivel! Previously constructed with a single piece of inflexible hard plastic, the new carry handle unclips easily and swivels to provide easy access in and out of the stroller seat.
Even though the stroller looks quite similar to the old Bugaboo Cameleon, don't be fooled. There are more than enough enhancements on the new Bugaboo Cameleon3 or Cam3 to make it worth your while, and more importantly the $979 price tag.
Tweet This Post
Bugaboo
Product Reviews
Uncategorized
No Comments »
April 11th, 2012
Tweet This Post
lifechangers
tv show
Posted in
About Us
No Comments »
October 5th, 2011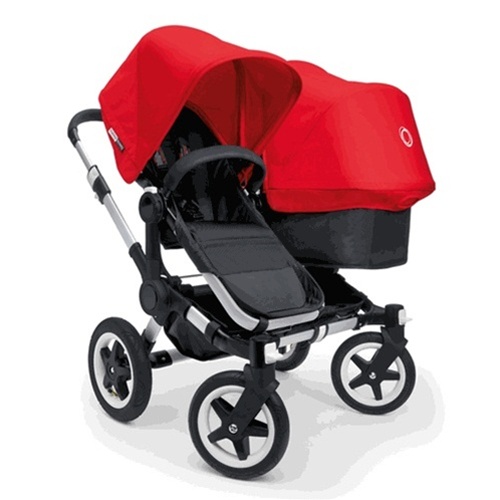 The Bugaboo Donkey had a limited production run in early April 2011. Customers snatched them up almost as fast as an iPhone on opening day. Since April, it's been hard to get one…until now. October 1st marked the nationwide release of the Bugaboo Donkey stroller, which is now available at many retail stores across the US. We started selling them a few days ago, and they are still flying out the door…
There has been so much publicity about this new breakthrough stroller, but there are still so many people that are not quite sure what it is or why and when to buy one. So, I wanted to take a few minutes to answer some of the FAQs we've been getting in hopes of providing you all with a better understanding of the wonderment that is the Bugaboo Donkey.
What's so great about this stroller?
The Bugaboo Donkey is a revolutionary product for it's function. It is a single stroller that will expand into a double. The expansion is made possible by releasing 3 clips and pulling the stroller out width-wise. It's really as easy as it sounds. It takes approx 15 seconds to expand or contract the stroller.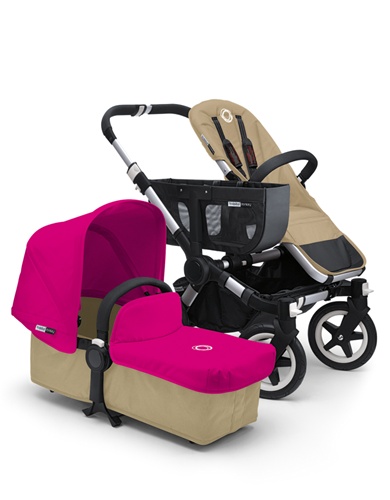 As a parent of 2 boys and a store owner selling these products, I'm a huge fan of strollers that can accommodate multiple children while still being able to function as a true single stroller. In years past, customers would purchase a large, clunky double stroller if they had 2 kids. However, what happens when you only have 1 of them that morning? Or the older one is now in pre-school. Do you just push your large double around with one empty seat? or perhaps buy a single stroller just for those days? Yesterday, I might have advised you to do one of those things. Today, there are a few stroller companies that have engineered the perfect strollers to accommodate a growing family. Bugaboo is one of them, and the Donkey is the newest and best (to-date).
There are 3 Bugaboo Donkey models. Which one should you buy?
Before I answer that, I'd like to clarify that all 3 models share the SAME stroller chassis (frame). So, whether you purchase the MONO, DUO, or the TWIN version, the stroller frame is exactly the same. The Bugaboo Donkey MONO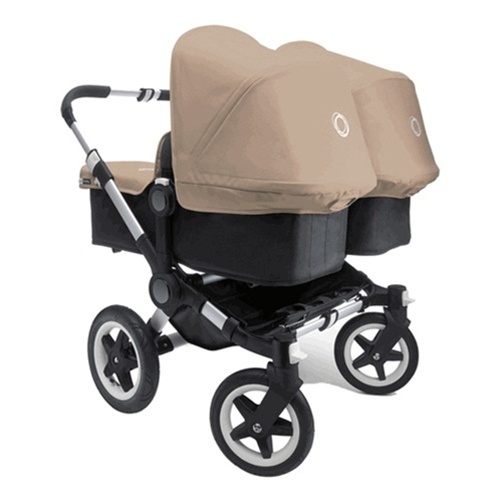 The Bugaboo Donkey DUO
Bugaboo Donkey Car Seat Adapters
So, again, regardless of the model you select, the stroller chassis (frame) will always be the same. So, if you are buying the Bugaboo Donkey MONO stroller now, all you need to purchase for baby #2 is the DUO extension kit which is essentially the second seat.
Can the Donkey fit through a normal doorway?
Yes! The Bugaboo Donkey MONO is 23.5 Inches wide. In the DUO/TWIN configuration, it's 29 inches. A standard doorway measures 30 inches. So, in every configuration, the Bugaboo Donkey will easily fit through the door.
Is it easy to fold?
Yes! The stroller folds much the same way as the Bugaboo Cameleon. In addition to the 2-piece fold, the Bugaboo Donkey can also be folded as 1-piece. It's a little bulkier and heavier to do it this way, but if you've got the space in your trunk it's a little quicker. The stroller weighs 28.6 pounds as a MONO and 33 pounds as a double (DUO/TWIN). Definitely one of the lighter doubles on the market.
What about accessories?
Bugaboo has updated most of their stroller accessories this season to be compatible with all Bugaboo Strollers. So, whether you have the Bugaboo Cameleon
Bugaboo Bee
Bugaboo Donkey
Footmuff
Seat Liners
Parasols
Wheeled Boards
Color Options
The Bugaboo Donkey is offered in 2 base colors, Sand and Black. The canopy (Stroller Canopy) and Tailored Fabric (Canopy + Bassinet Apron) colors are Black, Red, Off-White, Pink, Royal Blue, and Sand. In typical Bugaboo fashion, you can mix and match to create your own unique color pallet.
To sum it up, we think that the Bugaboo Donkey is an incredible product; a definite advancement in the stroller industry. Meeting the demands of a growing family, this stroller will be as popular in its MONO configuration as it is as a DUO/TWIN. It's been a long time coming, but Bugaboo certainly did not disappoint.  So, when you are thinking of dishing out about as much as you would for a used car, I would strongly consider this stroller.
Tweet This Post
bugaoo donkey review
Posted in
Baby Products
Bugaboo
Product Reviews
No Comments »
September 16th, 2011
There are lots of high chair options out there these days, so it's important to do a little research and choose the right one for you. There are chairs with or without trays, ones that are height adjustable and some that are fixed. There are even high chairs out there that can support your own weight, such as the Stokke Tripp Trapp
The Bloom Fresco
Freco Loft
There are two versions of this high chair; The Fresco and the Fresco Loft. To the naked eye, they look identical. That's because they are, aside for the height. The Bloom Fresco High Chair
Fresco Loft
Aside from height adjustment, there are numerous other great features. To keep it organized and as concise as possible, here's a quick rundown.
Weight Capacity
The Bloom High Chairs can hold up to 78 pounds! When it comes to buying these expensive baby products, it's always good to understand all of the benefits first. At least that way, it will help you get over the sticker shock. When evaluating the $400 to $500 price tag of these chairs, consider how long you'll be able to use them. In this case, your child can comfortably fit in this chair for the next 10 years!
Age Range
When you buy this high chair, it comes with 2 seat cushions. One is for use from birth with the booster seat (included), while the other larger cushion is for the toddler years. So, technically, this chair can be used from birth.
Flexibility
The Bloom Fresco and Fresco Loft is height adjustable; the seat can rotate 360 degrees (and can lock into place); has wheels on the base to make moving it easy and effortless; and can recline too! The reclining feature is especially helpful during the first few months, and allows you to be able to bottle feed your child with comfort and ease.
The Tray
The tray on a high chair is often a permanent fixture. They all come off, but most require the child to eat on them rather than on the dinner table. I love the idea of your child being able to sit at the table and join in on the conversation. With 2 kids of my own, this feature provided much more engaging family time while eating our meals together. The great thing about the Bloom Fresco and Fresco Loft High Chairs is that the trays are removable. So, your child can eat with the tray beside you or without the tray pulled up to your dinner table. Each chair comes with 2 trays. The larger one that you usually see in all the pictures online is usually used for eating, while the smaller one (which is tucked underneath the larger tray) is a great play tray.
Color Options
The Bloom Fresco Loft comes in two base colors; Black or White. The Fresco comes in white only. However, both chairs offer 10 different seat cushion colors. So, you'll definitely be able to match it to your home decor. The cushions are also sold separately, so you can change the entire look of your chair for $90. This comes in handy if you are preparing for your second child and need to change it up a little.
Overall, the Bloom Fresco and Fresco Loft High Chairs are as beautiful as they are functional. If you can get over their expensive price tag (remember, you'll have it for 10 years), the features will be sure to win you over.
Tweet This Post
Product Reviews
No Comments »
September 13th, 2011
Bathing your little ones is kind of fun. They splish splash in the tub and laugh and giggle there way through it. The only problem is getting them out without getting drenched with water. As the sign says, babies are slippery when wet. It's important to grab them with both hands, but then how do you get their towel around them before soaking your own shirt? The Snuggledry
There are so many hooded towels
Tweet This Post
Product Reviews
No Comments »